Become a legend!
Myth Defense: Light Forces
Download Press Kit
Multilingual Brief
English
Español
Français
Deutsch
Русский
日本語
"Myth Defense: Light Forces" has the best elements of tower defense games and also includes such original features as alchemy, random maps, campaign and more. The game supports all screen resolutions, and it is highly recommended for HD devices.
Full version features in brief:
- Battle mode: 4 basic maps + 3 special maps + random map
- Achievements and ranks
- Campaign: 18 maps; replay campaign many times to obtain prize and a higher rank
- Various skills enhancements
- 22 tower types + 3 special traps
- Special characteristics of towers and enemies
- Alchemy: create various runes to enhance your towers
- Terrain features: use swamps, puddles, etc. to employ the best tactics
- 33 levels of hardness
- Multilingual interface
- Panoramic sound on the battleground; original sounds and music
- Online worldwide leaderboards

Android: Player's progress of the free limited version is automatically migrated to the full version (SD card required).
IOS: Game Center and iCloud support. Player's progress of the free limited version can be loaded in the full version (Play->reload profile).
Main controls

1. Gold
2. Wave number
3. Glory points (GP)
4. GP multiplier
5. Lifes
6. Play/speed button
7. Pause button
8. Towers/traps switch
9. Build menu
10. Zoom control



Obstacles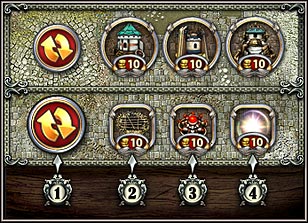 1. Tap to switch between Towers and Obstacles.
2. Build a trap (slows enemies down)
3. Put a mine of Dwarves (harms enemies around)
4. Generate an Elfin lightning (harms enemies)
You can enhance these obstacles at the Shop.


Towers
There are many tower types, you can build Crossbow Tower, Catapult or Holy Water Well and then upgrade them as described below. Some towers have special features, such as chance to shock enemies, inflame them, slow them down, etc. Details see in game Help.
Enemies
You fight against Dark Forces. Some creatures have weakness to fire, physical damage, etc. Some of them can resist electricity or invulnerable to throwing towers.
Details see in game Help.

Terrain features
Natural obstacles such as swamps or puddles slow ground enemies down. They don't affect flying creatures though.
Build your strategy carefully to take advantage of all terrain features.
Artifacts and runes
Each time you win you get some artifacts. Merge them at the Alchemy Lab to create runes. Rune can be split into artifacts for further use.
Insert a rune into a tower to enhance it. See details at the Alchemy Lab.
Campaign
Playing the Campaign, you pass 15 locations. Every time you pass the campaign you get a prize, the next rank and the game becomes harder. You can play either Battle or Campaign to earn GP.
Creatures' AI
1. Hardness level < 5
2. Hardness level > 5
3. Hardness level > 10
At higher levels enemies become clever, they try to find the safest way. Keep it in mind playing at hardness 5 or more.
Citadel
1. At the Shop you can exchange GP to various upgrades, recipes, etc.
2. Alchemy Lab is intended to obtain runes by merging artifacts.
3. See your awards in the Hall of Fame.
Insert a rune into a tower to enhance it. See details at the Alchemy Lab.
Online Scores
Using Leaderboards button from main menu you can see your own score in online rate tables. When you see rate table on your phone by pressing Leaderboards button (not from PC or direct link) you will see your score highlighted. Another difference is that from your phone you can see your score even if you are on place after 50. If you see rate tables from direct link you'll see only first 50 places.
Profiles auto-recovering
As profiles are synchronized with online storage, we've added an auto-recover feature to the game. If you played before but game can't find your profile neither in phone memory nor on SD-card (reset the phone or reinstalled the game), it downloads it from the server. Details see in our FAQ.